What happens if two best friends, Toni (Matthias Schweighöfer) and Paul (Florian David Fitz) due to differences of opinion and ego, decide to bet on leaving all their possessions behind?
Many say, when someone drinks too much, honesty is what is actually revealed. Honesty or is it just a release of a sentence for losing reason?
But the premise of this story is interesting, because as a result of the bet, these two friends the next day, woke up in plain condition, without any clothes in their respective rooms. Apparently the bet they say while in this drunken state, taken seriously by their work colleagues and they are the ones who manage everything so that when these two friends are aware of his drunkenness, awakened in this condition, innocent and without any clothes.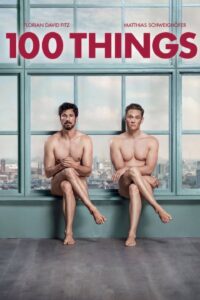 Through this hilarious premise, the audience began to be brought to laugh at these two friends who tried to survive with only one extra item each day that they could take from their belongings. If caught violating, then the winner will acquire all shares of the losing company plus can distribute evenly to colleagues and employees.
Furthermore, it is shown the close relationship of the two of them, as well as their respective dispositions. Paul is an inventor and brain of the company, yet plain and naïve in his thinking. Toni is an opportunist and observantly always sees all the gaps possible to get something, by all sorts of means. Toni usually always succeeds as a winner, leaving Paul who slowly but surely follows the rhythm of his time, but in the rhythm of that time, he often encounters interesting things and seems to be the giver of ideas for Toni's actions in his real life.
It can be said that these two friends complement each other, and are inseparable.
But because of this bet, unknowingly the two saw a new figure of his best friend. The figure that has been hidden, understood, but this time seems to be unable to be covered anymore and this often hidden and understood figure becomes a problem for their friendly relationship. The two seemed to wake up from a dream and began to feel uncomfortable with each other, causing a split.
But it seems that Florian David Fitz, the writer and director of the 100-something film, wants to take the storyline to a higher level, namely criticizing the current social conditions of human life that can't be separated from its "electronic devices", as well as the issue of patent inventions. If you follow closely, the audience will at a glance think, about a social media that is now worldwide, and is in the process of having its own currency. A social media that is able to evolve following the changing times and times. It seems that this is a criticism to be conveyed, in addition to the natural life that is currently being echoed in continental Europe.Return to nature, with organic life of all the produce grown and harvested by yourself. As well as of course, the social criticism of human life today is loaded with consumerism.
The focus on this global isyu, making the two friends reunite and together laugh at the stupidity of the two of them, including the issue of "company" and Paul's idea of simple technology, but can turn into something valuable if held in the hands of businessmen like Toni.
Overall the film is able to offer a funny and not boring entertainment. Getting the audience to rebook tickets to watch again, during the 2020 Europe on Screen Film Festival
Categories: reviews