Seobok tayang perdana via OTT. Seobok tersedia sebagai Single Rental premium di CATCHPLAY + dengan harga sewa Rp.49.500,-  (termasuk pajak), yang telah disesuaikan dengan harga tiket bioskop.
Di CATCHPLAY +, setelah melakukan pembayaran,  pengguna memiliki waktu 30 hari untuk mulai nonton filmnya.
Kelebihan yang lain adalah setelah mulai menonton, pengguna mendapatkan 48 jam untuk menonton sepuasnya.
Satu akun  pelanggan CATCHPLAY + bisa digunakan di lima perangkat terdaftar dan bisa menonton di dua perangkat sekaligus dalam waktu bersamaan termasuk PC, posel pintar, tablet dan televisi.
Ini merupakan tepat untuk menonton bersama teman dan keluarga, jika menonton di bioskop masih belum menjadi pilihan.
"Kami ingin menyediakan cara alternatif bagi para movie lovers dalam menikmati film terbaru dari rumah," ucap Daphne Yang, CEO CATCHPLAY Group.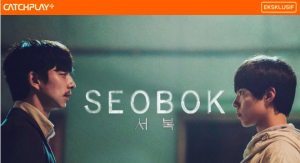 "Semenjak tahun lalu, kami sudah berkomitmen dalam menayangkan konten-konten blockbuster terbaru yang early access dari rumah di platform kami. Berawal dari Peninsula, Wonder Woman 1984, The Little Things serta Tom & Jerry the Movie, kini kami dengan bangga mengumumkan Seobok bergabung ke jajaran konten eksklusif untuk Indonesia. Kami harap bisa terus menghadirkan kejutan dan menghibur pelanggan dengan beragam judul terbaru yang lebih besar lagi"
Berikut adalah video trailer Seobok tayang di Indonesia mulai pertengahan April 2021 ini.