Finally the long-awaited film was also shown on the cinema screen, the film was none other than the Greenland film directed by Ric Roman Waug.
Ric Roman Waug is a director who has produced films such as Felon (2008), Snitch (2013) and Angel Has Fallen (2019). Interestingly he has a history in the film industry not only as a director, but also includes writers, producers, aktir and also as a stuntman. It is conceivable that his experience and his flying hours, make him have a wide perspective on the films he works on.
His films are also known for the amount of action performed throughout the plot, where the situation and conditions become the titk behind an event. Wide angle shot is often found in every scene of the movie before the action.
Greenland itself is about John Garrity (Gerard Butler), a Scottish architect living in Atlanta, Georgia with his estranged wife, Allison (Morena Baccarin), and their diabetic son Nathan. He returned home from work to make peace with his family after a conflict with his wife. The Garrity family prepares to throw Nathan's birthday party with their neighbors while watching the news of the passing moment of an interstellar comet, named Clarke. In the film, Gerard Butler appears to steal the sympathy of his audience with a neatly awakened chemistry with actress Morena Baccarin.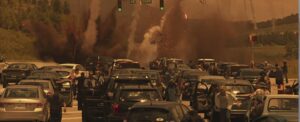 While shopping for party preparations, John and Nathan see a fleet of military cargo jets flying in formation that confuses them. While inside the store, John receives a strange automated phone call from the Department of Homeland Security, informing him that he and his family have been pre-selected for an emergency shelter in Greenland.

Greenland film does provide a light storyline and easily accepted by the audience because the storyline feels relate to the daily life of most people that is centered on family drama but to give a touch of thriller, then this simple storyline is then wrapped with the struggle to survive natural disasters.The audience's expectation of the emergence of many action scenes, given also by Ric Roman Waug spontaneously, is not seen planned in advance. This provides an element of surprise to the audience.
Greenland movies are suitable to be watched in theaters with large screens and powerful sound systems, so as to provide a more comfortable viewing experience in watching CGI elements of the natural world that destroyed planet Earth.
In the special screening held at cinema 21, many viewers gave a positive response to the film.
Here's the sneak peak
View this post on Instagram
Greenland the latest work from Ric Roman Waug, is suitable to be watched on the big screen with a powerful sound system has been present in Indonesia and will begin airing on March 10, 2021