Serial fantasi Shadow and Bone akan segera tayang di Netflix pada 23 April 2021. Diangkat dari novel Grishaverse yang laris di seluruh dunia karya Leigh Bardugo, serial ini menceritakan tentang seorang pembuat peta yatim piatu bernama Alina Starkov (Jessie Mei Li) yang tanpa sengaja melepaskan kekuatan luar biasa. Dipercaya dapat mengubah nasib dunianya yang dilanda perang, sebuah kekuatan gelap pun berkonspirasi untuk melawan Alina.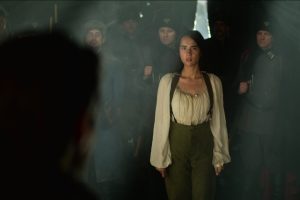 Menjelang penayangannya, Shadow and Bone mengeluarkan trailer perdana yang memperlihatkan sekilas keseruan berbagai aksi dan sihir yang memukau, seiring Alina berusaha menerima dan mempelajari kekuatannya yang baru. Adegan trailer dibuka dengan kegelapan yang menyelimuti sebuah tempat misterius bernama Lekukan, di mana banyak monster mengerikan yang siap memangsa siapapun yang memasukinya. Alina pun terlihat berhasil mengalahkan monster-monster tersebut dengan kekuatan sihir yang hebat, sehingga ia disebut sebagai Pemanggil Cahaya. Menjadi satu-satunya yang berkemampuan luar biasa, sepertinya Alina harus bersiap menghadapi berbagai musuh dan kekuatan gelap yang mengincarnya. 
Trailer perdana ini dapat disaksikan dibawah ini
Shadow and Bone merupakan serial yang diproduksi oleh Netflix bersama  21 Laps Entertainment. Serial yang terdiri dari delapan episode ini disutradarai oleh Lee Toland Krieger dan akan dibintangi oleh Jessie Mei Li, Archie Renaux, Freddy Carter, Amita Suman, Kit Young, dan Ben Barnes. 
 Bila sudah menonton trailer perdana ini, jangan lewatkan Shadow and Bone pada 23 April 2021, hanya di Netflix!