Watch the Best Indonesian Movies on Netflix on Mobile Become More Exciting with These Reliable Tips.Check out these five tips for optimizing your viewing experience and recommendations for the best Indonesian movies on Netflix, in the following ways:
1. Watch Indonesian Movies More Efficiently with Mobile Phone Packages and Download Features in Indonesia.
Many Netflix members stream using mobile phones. So Netflix continues to improve the way it can be enjoyed at the best quality but with lower bandwidth usage utilizing video encoding and adaptive streaming.
On mobile devices, Netflix's efficient video encoding allows members to stream up to 6.5 hours of content per 1 GB of data or the equivalent of watching three Indonesian movie titles, but that depends back on the data, the type of mobile phone, what content you're watching, and more.
Netflix's adaptive streaming technology also dynamically adjusts video and sound quality based on available bandwidth – rising as the data is stronger, or down as
weaker. So you won't be buffering. It also makes data usage efficient.
It should also be noted:
1.For mobile or tablet users, you can enjoy Indonesian movies on Netflix by subscribing to mobile phone package at an affordable cost of Rp.54.000 per month.
2.You can already watch many good movies offline without ad breaks using the 'Download' feature.
It's easy, use a Wi-Fi connection, select the Indonesian movie you want to download on your mobile phone or tablet, then click the 'Download' box and instantly your favorite movie will be downloaded.
3.You can also set the quality of Standard or High quality download videos in the 'App Settings' menu.
4.Watching movies becomes more comfortable and obstacle-free.
2. You Won't Miss Your Favorite Shows with Features Coming Soon and Remind Me
If you don't want to miss the release of the latest Indonesian movie on Netflix, on your mobile phone, you can use the 'Coming Soon' tab to find out what shows will be shown.
You can also choose the bell icon 'Remind Me' feature to get notified if the movie you're waiting for is already showing on Netflix!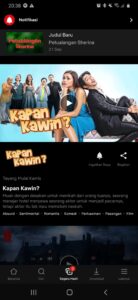 'Coming Soon' and 'Remind Me' features
3. Use a Child's Profile, So As Not to Worry When Kids Are Watching on Your Mobile Phone
No need to worry that kids will access content that doesn't fit their age group on your mobile phone, because Netflix has provided a 'Kids Profile' created just for them.
Enter a 4-digit PIN to lock your profile, so kids will never be able to access your profile from any device.
To create a PIN, select 'Account' > 'Profile and Parental Controls' > 'Profile' > select 'Change' in 'Profile Lock'.

4. Share Your Favorite Movies on Social Media
Want to share your inspiration after watching a movie that tells amazing stories to your friends through the Netflix app on your mobile phone?
It's easy, open the movie you like, then select 'Share' and then you can post it on Instagram Story, Twitter, or send recommendations to your friends via WhatsApp or SMS.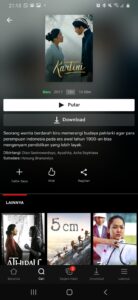 'Share' feature
5. Skip or Rework Movie Scenes
If you want to repeat or skip a scene while watching your favorite Indonesian movie, you can use the 'Backward' and 'Forward' features that will repeat or speed up the 10-second view.
'Backward' and 'Forward' Features
Want to get a more real viewing experience? Watch your favorite movies with the 5.1 and Dolby Atmos audio systems through quality headphones for a more immersive viewing experience and of course, family members at home aren't bothered by the sound of the movies you watch.